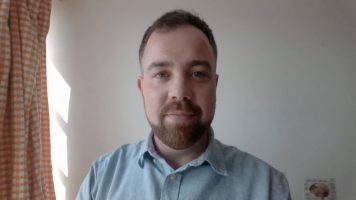 Tom is a Clinical Health Assistant in the community team. Working with People with Learning Disabilities at Surrey and Borders Partnership Trust
Tell us about your role and the impact it has on those work with
I work with Allied Health Professions – Physio, OT and Speech and Language Therapy (SLT). I accurately interpret and follow AHP care plans that detail the specific interventions I need to carry out with individual patients, e.g.
Physiotherapy – exercises; hydrotherapy
SLT – using Makaton; intensive interaction skills
OT – sensory integration work – using sensory tools
Also, I help with the 'information gathering' process through purposeful observation, e.g. provide info on patients' interactions and language skills through engagement and observing engagement with others throughout course of day, not just in therapy sessions. Gives assessment 'fuller picture'.
I help communicate the therapy recommendations to care staff, as well as teach and encourage care staff to 'try' skills so there is continuity of care outside of therapy sessions. My role helps bridge the gap between 'therapy' and 'care' in that I can show care staff that it is possible to learn specialised skills (as I have done), without having to be registered in that speciality. This encourages care staff to have the confidence to learn and make mistakes. I think this is also very helpful for rapport building between professions.
I also have strong appreciation for the importance of sharing generic workload, particularly the importance of being the link with the service for patients, and how providing that time to listen, be a positive contact and develop a relationship hugely influences the patients engagement and encourages them to seek help.
What skills did you bring to the role, have you developed any new skills?
I brought the skills of previous work as a carer which helps me understand and appreciate the carer role. I also worked in schools as teaching assistant and as a community support worker, so I have experience of working in varied settings. This variety has given me the confidence and empathy required to work directly with families and understand the wider experience of accessing services, as well as the impact transitioning from children to adult services has on the whole family.
Moreover, my educational background has strengthened my ability to adapt and wear different hats, which is often required when working with multiple parties, e.g. patients, families, professionals. I feel I am intuitive and appreciate how adjustments to my approach (tone, language, pace) help build connections.
Since being in the role I have improved skills such as clinical documentation – now I'm including more clinical terms and capturing what I do more accurately. I have become more analytical/using more clinical judgement in my delivery of therapy sessions, which in turn helps inform the therapists' treatment plan, for example if I observe the exercise is too easy or too difficult, I will report this and then we will adapt/grade the care plan accordingly making my work with that patient more specific and individualised.
What attracted you to a role as a support worker?
I didn't know about Allied Health Professions and the variety of roles it covered and how to access them- I first became aware when started work as a carer.
I found my current role through online platforms and was attracted to it because as it is a speciality I knew and liked- learning disabilities; the advert encouraged male applicants and I wanted to work in therapy and go on to register as a therapist.
What educational qualifications do you have? Are you working towards any new?
I am currently completing the Care Certificate and have completed training days on Dementia and on Social Story writing (communication aid).
I have a degree in Theatre Design. Then went on to complete 1 year of SLT training (at MSc level).
What are your future career plans?
To start and complete an apprenticeship with SABP in SLT or Physio/OT, SLT would be my preference.
What would you say to encourage others into a role as a support worker with AHPs?
I love my job and working for this service. I also feel very well supported by my manager and colleagues.