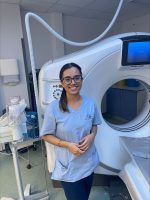 "Overall, the support that I offer as a support worker improves the quality of patient care, provides efficiency to the service and enables patients to have a positive experience."
Tell us about your role and the impact it has on those work with
My role as a radiology assistant is to work within a multidisciplinary team, assisting radiographers, sonographers, and radiologists with scans and procedures. The radiology department consists of different modalities including Ultrasound, CT, X-RAY, and MRI.
It is my duty to prepare the room, equipment and patients prior to their scan. This may include cannulating patients, giving them a preparatory drink, taking observations and going through safety forms.
I assist the radiology team in performing scans, being on hand to help when needed. Often It is my job to set up sterile trolleys for patients having invasive procedures. These procedures include biopsies and drains. This involves a great deal of patient care both before and after the procedure.
Radiology is a fast paced and busy department to work in. My role enables radiographers and radiologists to perform tasks effectively whilst providing excellent patient care. As a radiology assistant I can perform a lot of the tasks prior to scans which allows radiographers and Doctors to focus on the scan itself. My role is an important part of the process of delivering excellent patient centred care.
As an assistant I am often the first person to greet patients entering our department. My role entails a lot of patient contact and enables me to deliver compassionate care.
I have received a lot of training both online and practical to remain competent in my role. Refresher courses are available to keep manual handling, radiation protection and resus training up to date. All radiology assistants are given basic life support training so they can help in case of emergencies.
Overall, the support that I offer as a support worker improves the quality of patient care, provides efficiency to the service and enables patients to have a positive experience.
What attracted you to a role as a support worker?
I had done some agency work as a support worker in a hospital in London. It was very clear to me from an early stage, that radiology was the field that I wanted to develop a career in. The challenging yet fulfilling job is like no other. Radiology and imaging allows me to be part of a patients care and diagnosis as well as providing me with an interesting career. I have learnt basic life support skills, put them into practice and gained a vast amount of knowledge all whilst being able to do what I love the most- patient care.
How has training/development helped you in your role?
I have had a lot of training with this role, including cannulation, ECG monitoring, blood pressure checks, resus training and so much more. My job really allows me to put all this training into practice. I have been given the opportunity to develop immensely in my career.
I have completed the Care Certificate for support workers, which helped me as an assistant to develop in my role. After years of working as a radiology assistant I am now further developing my career by joining the radiography apprenticeship scheme next year. This is an apprenticeship provided by the OUH and The University of Exeter to enable staff to train as a radiographer whilst working. I have always wanted to become a radiographer and I am grateful that I can do so whilst working for OUH.
What are you most proud of in your role?
It makes me proud knowing that my role contributes to patient care. I always do my best to provide compassion and enthusiasm in everything I do. Knowing that I have made a huge difference in the lives of unwell people is such a rewarding feeling. This could be in an emergency cardiac arrest, a cancer patient or even a child who has come in through A&E. I am proud to be a part of such an amazing team.
What would you say to encourage others into a role as a support worker with AHPs?
For anyone wanting a challenging but rewarding career, the role of a support worker may just be the thing for you. It gives a great sense of accomplishment and allows you to practice a great deal of patient care. It is a very hands-on role and no day is ever the same. Working as a support worker has been enjoyable. It has also opened up opportunities for my future development.