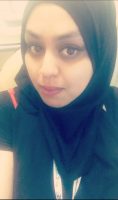 "I am really looking forward to the Support Worker Learning Event as this is the first event that recognise and appreciate support workers role. It is great that we have an event dedicated for us."
Tell us about your role and the impact it has on those work with
My role is to assess vision on patients, assess their visual field, (this is their peripheral vision), assess their IOP (eye pressure) and laser scan their eyes (taking a picture of the back of their eye). I carry out diagnostic tests for patients with visual processing difficulties. Not one day is the same and the challenge it brings I thrive on. The feedback from patient and staff is always a positive which enable me to accept that I am in the right path.
What attracted you to a role as a support worker?
I chose to work in this field because I love helping people. The satisfaction I get when a patient leaves happy with their care, they received is paramount to my enjoyment.
How has training/development helped you in your role?
I am always looking for opportunities to update my skills, as I know it can beneficial to my patients. I recently completed a Visual Processing Difficulties (VPD) course which has boosted my knowledge and has allowed me to help more patients, alongside with all my in-house training. I am now enrolling onto a leadership course, Higher Development Award (Level 3) to enhance my leadership skills. I am hoping this will allow me to progress in my career journey as a support worker.
What are you most proud of in your role?
I helped a patient who was very disturbed and refusing care, I managed to calm them down using compassion and a lot of patience.
To be part of one of the best Orthoptic team whose main aim is to provide the best care to all our patients is the biggest blessing.
What would you say to encourage others into a role as a support worker with AHPs?
If making a difference is in you, then this is the best choice you can make. As the impact you have on patient care is the biggest achievement in my book.
Anything else you would like to say?
In the last year, I have thoroughly enjoyed developing in my role with all the training that has been made available to me via the BOB AHP Faculty. I am really looking forward to the Support Worker Learning Event as this is the first event that recognise and appreciate support workers role. It is great that we have an event dedicated for us.