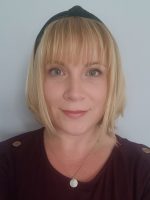 Laura is an Advanced Speech and Language Therapy Associate Practitioner for the Isle of Wight NHS Trust
Tell us about your role and the impact it has on those work with
I work within the Adult Speech and Language Therapy (SLT) team, who work with adults with acquired communication and swallowing difficulties, and adults with learning disabilities.
Working in the community, we offer therapy to patients in their own homes, residential homes, nursing homes and outpatient clinics. Seeing patients in their own familiar surroundings, gives us a better understanding of their individuality and what is important to them. This helps us to create unique person-centred therapy goals with each patient.
We assess patients who have swallowing difficulties and offer them advice on modified food and fluid consistencies, which helps to decrease the risk of aspiration. We also help patients to implement safe eating and drinking strategies, enabling them to eat and drink as independently as possible.
A large part of our job is to complete communication assessments, face to face and online therapy, provide communication resources and offer training for family/staff/carers.
I take a lead role to support patients who use AAC (augmentative and alternative communication), this can range from paper-based resources such as alphabet charts, picture charts and word or picture-based books, to electronic devices such as a tablet with communication software, light writers, and eye-gaze devices.
What attracted you to a role as a support worker?
I have always been helpful in nature and when I was younger, I spent a lot of time with my Nan, helping her around the house and attending groups with her. This made me realise that as you get older, you may need support to do even the simplest of tasks, and I was eager to help anyone who was in need.
So, when I was 18, I started to work as a support worker, providing personal care to people in their own homes. I worked with many people, who all had different needs due to conditions such as Stroke, Parkinson's disease, Motor Neurons disease, Dementia. Each person had their own interests, hobbies, and different life stories, and it was lovely to get to know them and hear their stories. One lady in particular stood out, a 94-year-old with who had Motor Neurons disease. Due to her condition, she was unable to verbally speak, but she used other forms of communication – facial expressions, body language, an alphabet chart and typing on a light writer. Even though she couldn't use speech, she was a fantastic communicator, and she is the reason I started to look for work within SLT. I wanted to help people to be able to tell their story as she did.
How has training and development helped you in your role?
I started working in SLT in 2017 as a band 3 assistant. Over the years I have learnt a lot from my colleagues and attended various in house and external training. This has helped me to develop my knowledge and understanding of communication and swallowing difficulties. My team are very supportive, and we have regular CPD meetings, passing on any relevant information or training that we have attended. This has helped me to progress in my career, from an assistant to an Associate Practitioner, and now I am an Advanced Speech and Language Associate Practitioner.
As I have progressed, I have realised that I want to take up a career as a Speech and Language Therapist, though I need to complete a degree to achieve this. I have applied and been accepted to Reading University and my team have been very supportive in this decision.
What are you most proud of in your role?
Communication is a fundamental feature of humanity. Being able to communicate – to produce, receive and process messages is essential to interaction and participation.
Every person has the right to be able to communicate, and when we lose that ability, we lose a part of ourselves. I am proud that I am able to support people to communicate in any way they can, to convey their messages of wants/needs/feelings to their friends, families, carers and loved ones. Everyone deserves that.
What would you say to encourage others into a role as a support worker with AHPs?
I find my job very rewarding, and I meet so many wonderful people whilst doing it – including patients, their families, and colleagues.
There are many different paths within AHPs (including Speech and Language, Occupational Therapy, Physiotherapy, Dietetics, to name a few), and I don't know a person in one of these professions who doesn't like their job.
Anything else?
I'd like to thank my team for being so supportive and helping me to progress over the past 5 years. They're all very hardworking and do an amazing job for such a small team!