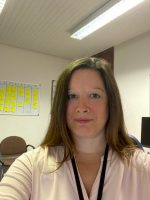 "I love seeing them (patients) leave my testing room with a smile on their faces"
Tell us about your role and the impact it has on those work with
I perform peripheral field of vision test on patients at the request of Ophthalmology Consultants following various pathways for example, glaucoma, intralocular hypertension and neuro ophthalmology.
What attracted you to a role as a support worker?
After several years of hospital treatment including brain surgery for a neurological condition myself, I decided to take on a patient care role in a hospital. I was not a qualified nurse so I felt offering support from another direction would be the best option.
How has training/development helped you in your role?
It proves to create an engaging and more confident attitude towards my role.
What are you most proud of in your role?
My patients are generally very anxious, concerned and sometimes scared of the outcome of their hospital appointments. I try my best to help them feel more relaxed and able to communicate to me in an approachable environment. I love seeing them leave my testing room with a smile on their faces. I have also created some easier tests for patients who struggle to sit at the machine for long periods of time.
What would you say to encourage others into a role as a support worker with AHPs?
I would be honest and say it is not an easy role to undertake, there are challenges… on the flipside of the coin it is very rewarding! I would not still be in this role after 13 years if I was not happy.
After experiencing a year's secondment in an administrative role in the hospital, although I enjoyed it I feel I am back where I belong in a clinical support worker role and environment.