AHP faculties are groups of education and service providers that formally work together across an Integrated Care System (ICS) to support and deliver a collective approach to enable AHP workforce sustainability and growth.
There are six AHP faculties across the South East that support each of the ICS' in the region and report into their respective ICS AHP Council.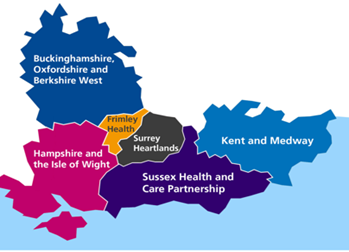 Key priorities for the South East AHP Faculties include: coordination and expansion of quality learning environments, apprenticeships and widening participation, developing the AHP support workforce, work experience, promoting AHP careers, advancing practice, workforce development & return to practice (RTP), and bridging the gap between education & employment.
Use the buttons below to find out more about each AHP Faculty:
You can read the Report on the HEE South east Podiatry workforce sustainability & transformation project below.
The six Faculties received funding that has been spent to fulfil the faculty specification and overall this funding has increased the AHP leadership capacity across the region via the faculties to implement change and develop the AHP workforce.