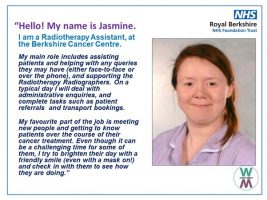 Tell us about your role and the impact it has on those work with
My role mainly revolves around administrative duties and supporting the work of the Therapeutic Radiographers in the department. This can include processing referrals, calls to patients, calls to external hospitals for information (blood results, previous radiotherapy), booking hospital transport for patients, booking interpreters, EPR (scheduling appointments, checking patients in and out of Radiotherapy appointments, checking patient status, etc), and reception cover.
Recently I have been helping with uploading patient information on to the patient information system as part of the paperlite process.
I have also assisted in some clinical duties. I sometimes help the porter with any stretcher patients coming down from the wards for radiotherapy treatment. I have been asked to chaperone a couple of examinations as well.
When patients are referred to Radiotherapy, we are their first port of call. It is within my job role to ensure that the patient's journey through the department starts off well, and their enquiries are dealt with in a timely manner and with empathy. This, I feel, helps the patient understand what the next part of their journey will entail and, knowing that they have people within the department to turn to when they need, takes away some of the stress.
What attracted you to a role as a support worker?
I initially did a work placement in Radiotherapy in Derby a few years back and really enjoyed that. I got to learn about systems and processes as well as what happens in a hospital workplace. Once I found out there was a role at RBH available, I knew I had to apply.
How has training/development helped you in your role?
The training I have had so far has helped me tremendously. I know who to contact if I have a question about something. For example, if there is an issue with an encounter on the electronic system EPR, I know to contact EPR back office and Data Quality for advice. It has also given me a range of skills and knowledge as well as confidence building.
What are you most proud of in your role?
I'm proud that I have grown more confident over the years working here. Initially I was quite shy and quiet but now I feel comfortable developing a rapport with both patients and my colleagues.
What would you say to encourage others into a role as a support worker with AHPs?
I would say that it's a good way to improve confidence in yourself as a person as well as communicating with others. I have learned a lot whilst working as a support worker which has helped both professionally and personally. Every day brings something new and if you like problem-solving and getting to know new people, then this is the role to be in.