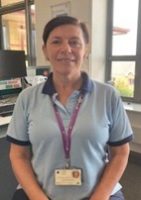 Maria has worked in the NHS for 38 years and has progressed to a role as a Physiotherapy Associate Practitioner with the Community Neurology Service Team at St Mary's Hospital, Portsmouth which is part of Solent NHS Trust.
Why did you apply for your role?
My career started in 1984 after dropping out of college and I was unsure how to progress.
A career advisor introduced me to the government Youth Training Schemes (YOP/YTS) leading me towards Physiotherapy at Queen Alexandra Hospital (QA). YTS were on-the-job six months' training courses for school leavers aged 16 and 17, replacing Youth Opportunities Programme (YOP) by Margaret Thatcher's government and managed by Manpower Services Commission.
What have I achieved?
During my four monthly rotations in wards and departments, I shadowed registered Physiotherapists and other professions at QA Hospital within their specialities giving me opportunities in surgery, acute medicine, hydrotherapy, elderly medicine, and outpatient physiotherapy etc. This experience was insightful, giving me confidence towards applying for my Physiotherapy Helper role under the Portsmouth primary care group. My role as a Remedial Helper was therapist-led, and lacked structure and training, fortunately, my Senior 1 (B7) was keen for role development. 
I helped identify our training and learning needs and implemented the initial in-service training sessions. I valued these speciality rotations as they gave us invaluable knowledge and experience through joint working with skilled clinicians and feeling valued within the MDT.
Today I'm a Physiotherapy Associate Practitioner in the Community Neurology Service (CNS) team at St Mary's Hospital in Portsmouth, working with patients towards achieving their full rehabilitation potential through assessing and identifying needs, goalsetting and establishing treatment plans. Further, I support with weekly triaging of patients, and manage my own caseload of patients.
Recently, I've been involved in a successful pilot, supporting our Lead Physiotherapist in supervising one first year Physiotherapy student. Based on this success, my involvement with student supervisions will be ongoing, and I am expecting another student in June. We are constantly reviewing opportunities for student learning and Support Worker inclusion.
I've gained various skills working through the COVID-19 Pandemic despite the associated difficulties including redeployments to Jubilee House and the End-of-Life team. My new role as a Support Worker was tough, however, I felt confident relying on my skills so I could support patients in meeting their therapeutic needs.
Looking ahead
My 38 years in the NHS have been enjoyable; experiencing my role evolve, and witnessing the challenges brought on by the pandemic.
The future of our CNS service and care provision looks interesting as the Pandemic settles because of the service changes we have made allowing us to continue meeting patient needs. For example, there may be opportunities to move towards a virtual model in some areas allowing for virtually delivered therapies and supervisions, freeing some clinician time for planning and more urgent face to face contacts and better opportunities for students.
My career has been an enjoyable and fruitful one, and despite initially having reservations about providing my case study until Rujeko (AHP Support Worker Lead) met me to discuss the expectations, I am hopeful my experiences can help other AHP Support Workers feel positive about their career paths, developing within their roles, and confident about exploring opportunities within.