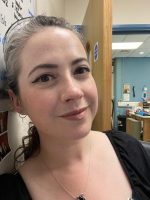 Jen works at Sussex Community NHS Foundation Trust as an apprentice podiatrist and is in her final year of studies.
Tell us about your role and the impact it has on those work with
I am in my final year as an Apprentice Podiatrist. This means I'm studying at the University of Brighton whilst being supported by my colleagues in the Podiatry Department when I'm on placement with them. My weeks are broken up into academic blocks where I attend lectures and clinical placement blocks where I return to work to practice my Podiatry skills.
The unique situation of having more intense clinical hours in a place I am familiar in means that my skills have levelled up quickly. This has benefited patient care as it means I am able to run clinics whilst being supported by my colleagues. The patients receive the thorough assessments in line with our teaching but in their usual clinic which helps with continuity of care.
What attracted you to a role as a support worker?
I have worked in my department for ten years as an Orthotic Technician/Foot Care Assistant.
The variety of the work within Podiatry is a real attraction, as an Apprentice the work is interesting and diverse. In a usual week I do nail surgery, routine podiatry work, paediatrics musculoskeletal clinics, wound care, diabetic foot screening, vascular management and adults' musculoskeletal clinics.
Podiatry very much sits within a multidisciplinary team and I regularly work with orthopaedic surgeons, physios, Extended Scope Podiatrists and in the wider vascular, rheumatoid and diabetes specialists teams.
What training and development has helped you in your role?
Being given the opportunity to enrol with the University of Brighton and upskill by being employed to study to become a registered Podiatrist has been the biggest development in my role, progressing me as and through a Support Worker role.
My Trust has roles for different types of 'Champions' to facilitate excellent care within our community. I was given the opportunity to train to become the Podiatry Department's Learning Disability Champion. Being the Learning Disability Champion adds another dimension to my job role, it is my responsibility to empower and advise my colleagues on making our services more accessible to those who may have a Learning Disability, Neurodivergence or are a part of the Deaf and or blind community. This is achieved by feeding back on case-based scenarios and making real-life reasonable adjustments for patients to ensure that their access to podiatric healthcare is equal and equitable. As part of this role my Trust also offers Makaton language training which I had the pleasure of completing this Autumn – having another means for communication with my patients who encounter barriers to their healthcare is vital and important.
I have also completed training through my Trust with a local regional charity who provide information for healthcare professionals on identity training, language and signposting for young people who are part of the LGBTQ+ network. This makes every contact count when I see paediatric patients as an opportunity if it is needed to signpost them to a place that offers support.
What are you most proud of in your role?
I am so proud of the impact I can have on patient care and on patient health quality. All the progression has led me and continually leads me to develop in my professional clinical capacity. This has enabled me to have a holistic patient centred approach to patients with an understanding of barriers to healthcare and how to address them.
What would you say to encourage others into a role as a support worker with AHPs?
The roles within AHP support workers are vast and there are plenty of different jobs to suit most people. Working with the public to maintain quality of health, mobility and pain management is incredibly enriching. The friends and colleagues you meet along the way are a real bonus too.
If you are considering moving into a role as an AHP support worker, absolutely do it. There are so many incredible people working within health care and by joining you can make a real difference to patients' lives.