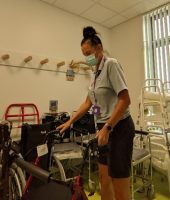 Charlotte is a Physiotherapy Associate Practitioner, Portsmouth Rehabilitation and Reablement Team, St Mary's Hospital.
Tell us about your role
I am a Physiotherapy Associate Practitioner in the Portsmouth Rehabilitation and Reablement Team (PPRT IC), which is an integrated health and social care team providing support with intensive needs because of acute illness.
My career has always been interesting; I seconded from Stroke Rehabilitation to Community Stroke Rehabilitation Team (CSRT), and when this opening ended, I applied for the role at PRRT and I have since been there for about 5years
I immediately found it stimulating due to how broad and varied it is. It was a combination of occupational therapy, nursing, and physiotherapy which gave me multiple opportunities for development and learning. It was inspiring and remarkable observing the changes patients could make utilising exercises and rehabilitation to the point of returning to their previous activities, achieving their goals, relieving their pain, and no longer requiring their packages of care.
Seeing this gave me increased job satisfaction, and further drive to want to work within this team and develop my skills and knowledge. I also developed an interest in pursuing Physiotherapy as a career in my future.
In my role I support early discharge from hospital and work towards preventing admissions through providing home-based physiotherapy support, enabling patients to return to their baseline mobility and activities of daily living. Eliminating the need for travel to appointments therefore providing therapy within patients' own environment is hugely beneficial, relieving the associated risks and stresses involved with travelling to appointments and for myself, it means the I'm able to tailor their therapy to their needs including their environment. For example, we can utilise patients' own stairs towards achieving goals such as returning to sleeping upstairs, establishing what is achievable and if adaptions e.g. rails are required. Community therapy offers better convenience and increased sessions, which means our patients achieve their goals earlier.
What training have you received?
Recently, I completed my Foundation degree in Health and Social Care which has broadened by understanding of our anatomy and physiology; understanding why patients have certain symptoms and how this affects their bodies on a cellular level. This knowledge has been helpful in supporting patients understand not only their physical symptoms, but also the physical feelings of their conditions which patients appreciate.
I feel my practice has also improved. With a greater understanding of the theory behind NICE guidelines and evidence-based practice, my documentation of patient information has immensely improved and I find myself less intimidated when engaging with other professionals including Doctors and Consultants as I feel self-assured in my contributions.
What would you say to encourage others into roles as a Support Worker?
I really enjoy my role and encourage others to become Allied Health professionals because of the freedom within our roles, and large scope of practice involved. Every day is different, presenting different challenges and wins. The relationships I get to have with my patients make me proud, and are a positive reminder of the difference I make.
What else are you proud of?
I take pride in every opportunity I have to improve our patient's lives; in fact, it is the best feeling knowing I've played a role in improving someone's life. The relationships between my patients and I are valuable, and I'm proud of what we're able to achieve together as a result. I have a great sense of achievement and the positive feedback I receive makes me proud of myself, my team and my patients who are very committed towards their recovery.
Anything else?
I really enjoy the scope of my role and feel each day thus far has presented me with multiple learning opportunities, including the experiences from my previous roles. I believe they have all brought me to my current stage in my current where I am ready for my next step which is training as a Physiotherapist as soon as my Trust can offer this apprenticeship.