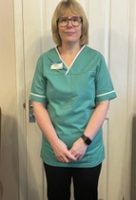 "AHP Support workers are happy to disclose the challenges they are facing and reply to the many questions I have for them with the knowledge that I am there as their voice."
Why did I apply for this role?
In my role at HHFT as Radiology Assistant and Porters Team Lead, I currently line manage both teams, around twenty-eight people in total.
I have all first line manager responsibilities; some of the tasks I carry out are staff appraisals, probationary reviews. I am responsible for recruitment of the support staff from advertising the role to shortlisting and interviewing the staff, updating TRAC, and informing HR.
I manage my team's sickness absences in accordance with the trust policies, support their wellbeing and have those challenging conversations when required.
One of my biggest tasks is the team rota and providing the support to the clinical staff as required. I also manage annual leave and use the ERostering system to update leave and absences.
My role within the teams is so important in making sure that I have teams that are supported, feel valued, and I provide the opportunities for their own development; by doing this it enables the teams to provide the support to our patients and clinical staff during their imaging appointments.
The two main reasons why I decided to apply for the secondment to AHP Support workforce lead are:
I was looking for a new career development opportunity and after seeing the job posting I felt this would help me have a better understanding of the AHP support workforce and to act as an enabler for me to support my team with their individual career development. I wanted a better understanding of the AHP support workforce and the different training opportunities available as well as having an insight into the future development of the support workforce which would be hugely beneficial to us all.
I was unsure initially how the secondment would work for myself and the department, but I have amazing support from both my line manager and the Senior management team, who encouraged me to take up this new role.
My team have been superb by supporting each other through this transition. It has given some members of the team the opportunity to take on new tasks and develop their leadership skills in my absence. It is lovely to see the development of my team who may not have had the opportunity to undertake such activities
At the beginning I was not confident contributing in meetings but as time has gone on, I have a much better understanding of the objectives of this role. I feel more confident getting involved in the discussions and I am now developing a support worker forum.
What have I achieved?
My computer skills and how to use Teams have improved hugely. I very rarely used Teams before this undertaking this role. Now I can share files and PowerPoints! I am developing an internal support worker forum, which is a great way of connecting with our support worker workforce.
I really enjoy engaging with the AHP support workforce, so I have taken to floor-walking around the hospital and meeting different people has been an enjoyable and important aspect of this role. I have found that the support workers appreciate the engagement with a fellow support worker. They are happy to disclose the challenges they are facing and reply to the many questions I have for them with the knowledge that I am there as their voice.
Through communicating with other AHPs I have developed my leadership skills by listening to their challenges and having the experience to offer support, advice and signposting to experts. I didn't realise how much trouble shooting that I do on a daily basis until I met the AHPs outside Radiology; there are many common themes within different departments, and I surprised myself at how I could empathise whilst offering support.
The secondment has raised my profile and the leadership role within support worker staff, which is still very rare. It is such a worthwhile role and I feel should be developed further to enable band 3 support staff to develop in alternative routes to the classic clinical approach.
I have an improved understanding of the different AHP support roles and have visited some interesting departments within the hospital that I have not visited before.
I would encourage anyone that is offered this opportunity to "go for it "! You will meet some really interesting people along the way, be supported by equally motivating people that will make a BIG difference to the future of the AHP support workforce's future.