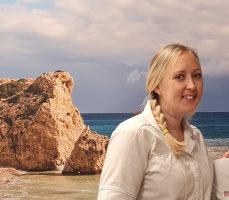 Jenny is a Radiology Assistant at Wexham Park Hospital, part of Frimley Health NHS Foundation Trust
Tell us about your role and the impact it has on those work with
My role within the trust is to assist the Radiology consultants with minor procedures such as biopsies, the Radiographer's with CT scans, Sonographers with Ultrasounds and most importantly to help and support the patients. I love being able to support the patients during their time in the department, sometimes even just having someone to talk to can make a difference with them leaving the department happy and content.
What attracted you to a role as a support worker?
I was never sure as to where I wanted to work but knew I wanted to work in healthcare and be a part of caring for patients. I came into this job role two years ago to see what it was all about and if going on to be a radiographer is my forever job. After the first day I knew it was the job for me. I have loved every minute of my time working here and no day is ever the same.
How has training and development helped you in your role?
Training for this job role is very hands on. Learning whilst on the job and taking in advice from all the Radiologists, Radiographers and Sonographers is invaluable which helps further your job role. For example, I have been learning to position patients within the CT Scanner under the guidance of the radiographer's which will be a huge advantage when starting my Radiography Degree.
What are your future career plans?
To attend university and become a registered radiographer.
What are you most proud of in your role?
I spent a lot of time in the A&E Ultrasound room with patient's that were upset and tired, while having the scan's they would look away and stare at a blank white wall. I decided to arrange a sponsored walk and raised £1,115 to have a Vinyl Wall put up in the Ultrasound wall to help calm patients or give them a nice distraction to what is happening. I am so proud to have been a part of making the environment better for the patients.
What would you say to encourage others into a role as a support worker with AHPs?
Working for this trust is like having another family the support, training and help given to staff is amazing. Being able to leave work every day with a smile on your face because you have helped so many others is what it is all about.