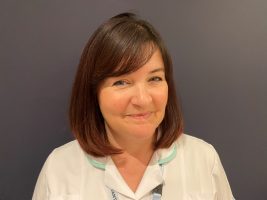 "Our Jan" works in the Integrated Discharge Team (IDT) for East Sussex Healthcare NHS Trust. Jan was nominated by Rosy Shrubbs, Clinical lead OT for the IDT.
"Like many acute hospitals, COVID-19 pushed us to our limits and then some more. But here, within OT IDT we had a "Jan" – the glue that held our team together, a reluctant heroine.
As our Infection Control Lead, Jan found herself thrust into a key position responsible for timely cascading of frequently changing guidance and liaising with Infection Control for answers to our concerns. She organised and delivered training sessions to reduce fears, ensuring safe practice, while somehow injecting a mischievous sense of humour into training reducing tension. Her attention to detail and diligence ensuring sufficient PPE supplies kept us safe. Jan listened with compassion as we returned from the wards, releasing emotions for patients and colleagues lost in order to don PPE once more, with Jan beside us. She soothed and watched our tears fall but also had us laughing –together.
Jan began her career as a PT assistant moving across to OT as a Technician (B3)4 years ago. During this time she has consistently embodied the values of our Trust.
At a moment's notice she can be called upon to support another OT team using her cross competencies to provide valued assistance. It's "a learning opportunity" she'll say and then somehow additionally completes the original tasks planned as well."
"She is compassionate and caring to all she comes into contact with whether it's singing at the top of her voice alongside a patient with a learning disability wheeling along the corridor , focused on making a scary experience positive, sitting attentively in The Therapeutic Garden with a gentleman with alcohol related Korsakoff's encouraging to 'be in the moment' listening to his story as he tries to express his feelings, to hand jiving with a lady in her late 80's, fearful of falling, while building standing tolerance in a support frame.
Jan is always there for the new member of staff or student supporting their induction and ensuring they genuinely feel part of the team. Jan never judges, she sees each person, patient or staff member as an individual with their "own story" and their "own journey". She respects and values their uniqueness, maintaining their dignity is of utmost importance and she truly listens.
Jan has worked tirelessly to develop The Therapeutic Garden, giving of her own time. Every Christmas she gathers the talents of staff around her to create a magical wonderland for the enjoyment of staff and patients.
Currently, with the artists permission, recreating a colourful painting/ mural on the back of the shed to be viewed from the assessment kitchen instead of a blank wall, because "who wants to look at a blank wall?!" This sums up "our Jan" – quietly doing something magical and with such humility no-one realises until suddenly the task is done and like the painting it's bright and beautiful and we wondered how we ever managed without it before."