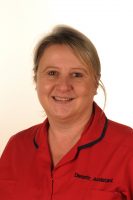 Claire works as a Macmillan Oncology DIetetic Assistant at the Royal Surrey County Hospital. Claire was nominated by Nicola Porter, a dietician working alongside her.
Claire joined the Department of Nutrition and Dietetics at the Royal Surrey County Hospital 5 years ago into our newly created post of Band 3 Macmillan Oncology Dietetic Assistant. In that time she has become an invaluable part of the team. She established this new role with enthusiasm and a keen desire to learn and has completely exceeded all of our expectations. Claire has demonstrated the huge value of this role and the department now has a total of 3 dietetic assistants.
Claire has the most incredible intuition which allows her to provide outstanding care to her patients, and invaluable 'behind the scenes' support to her team and to the department as a whole. Her role combines administration with clinical care which Claire does seamlessly. On the one hand, her time is spent organising the dietetic clinics and other administrative duties, whilst her role brings her to clinics to see patients face to face and provide first line dietetic advice. Claire will also regularly liaise with nutrition companies, to gain up to date product information and availability, and with GP surgeries to ensure our patients have the nutritional supplements they need.
In 2019, Claire embarked on training to be a counsellor in her own time and in doing so her additional skills have enriched the service our team can offer our patients. She is able to provide emotional support to patients and their families, as well as psychologically supporting her peers in often very stressful situations.
Working within the NHS during and after the pandemic has been challenging and stressful but Claire has taken it upon herself to take on more responsibility and ensured that as many patients as possible still benefitted from dietetic advice and emotional support during their cancer treatment. As fewer patients could be reviewed face to face by the dietitians, Claire ensured that she maintained face to face contact with as many of them as possible while they were waiting for their consultant appointments or receiving chemotherapy. In addition, she fielded even more telephone calls and tirelessly dealt with queries from patients and their families with respect and kindness.
Most importantly she goes above and beyond to look after the wellbeing of our team. She is always available to talk through logistics and problems and makes it her duty to call us back to the office for food and fluids, vital to the wellbeing of any dietitian!
We miss Claire (and her laughter) when she is away from the office and genuinely feel that she is the central cog of our team. Without her, our work and wellbeing would suffer, and our patients would be deprived of her amazing input. Her natural person centred care, for both her patients and her peers, demonstrates respect, kindness and compassion. She would be a worthy winner of this award. And we thank her so very much for choosing to join our team.
'Claire is a joy to work with. Our patients really benefit from her caring and compassionate nature and the support she offers cannot be underestimated. She is never allowed to leave us.'

'Claire has no idea the difference she makes to all of us.'

'The fact that Claire was given homemade cake by a patient this week is testament to the positive influence she has on the patients she meets'

'Claire is a support to the whole department, not just the oncology team, she is friendly, easy to talk to and a great listener'

Colleague comments submitted in support of nomination.