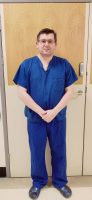 Graham works in theatres at the Queen Victoria Hospital in Sussex. He was nominated for his role as Assistant medical devices co-ordinator by colleague Alison Banyon.
We would like to nominate Graham for this national award as he is truly an inspiring individual, he has so much passion and focus in his role as assistant medical devices coordinator for perioperative services/theatres.
Graham has achieved so much for the department and the trust, he demonstrates so much pride in his work, and demonstrates the trust values in every aspect of his daily activities and will always go the extra mile for his colleagues and our patients. Below are just a few examples of his outstanding contribution to the NHS.
Graham is always striving to come up with new initiatives, from greener plans to cost saving and time management. He sits on the greener plan committee championing ideas such as solar panel systems, as a result the trust are looking into different funding streams to support the idea.
Graham is also key in researching new funding initiatives for innovative ideas and is currently working on an application for tracking equipment across the trust and looking to gain the support from the NHS future hospitals initiative.
In addition to his role at QVH Graham is an army reservist, with his links to the army he contacted the workforce team at QVH about the Step into Health and Help for Heroes' national programme and is a passionate member of the support network and a champion for QVH.
His colleagues see him for his honesty, integrity and flexibility. He is a one of the most resilient team members finding a solution for any problem and will make time to help anyone in need always prepared to lend a hand, he is an excellent role model for all team members both junior and senior and is well respected amongst the senior consultant body including our medical director who is in full support of this application.