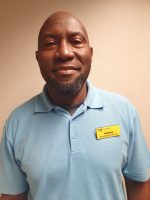 Anthony works at the Sussex Rehabilitation centre, part of University Hospitals Sussex, as a Physiotherapy Technical Instructor. His nomination was by Zoe Rothery, a Specialist Neuro Physiotherapist.
At the National Celebration event Anthony got special recognition from Beverly Harden, AHP Lead HEE and Deputy Chief AHP Officer.
"I just want to bear testament to an incredible human who was short listed and this is a beautiful part for me. Of so many of our workforce, they are not the bouncy, brash Beverley's… they are the quiet leaders who make an absolute difference. And Anthony Browne, you came through my friend in the shortlisting as somebody who is a quiet leader.

They are some of the most brilliant, important people and they say that great leaders step back while their colleagues say 'look what we've done, aren't we amazing, isn't it brilliant'. And Anthony would be there looking quite humble and seeing the brilliant that he'd been part of, but actually allowing others to take the benefits.

Anthony be really proud my friend. The quiet leaders are the ones who genuinely make a difference and drive real, real impact for people. So thank you Anthony. You should be really proud of that special mention."

Beverley Harden, AHP Lead HEE and Deputy Chief AHP Officer.
"Promoting health and wellbeing
Anthony, along with his support worker colleagues, prepares and organises the running of the Physiotherapy gym each day. He has established systems that are intuitive and easy to use, thus contibuting to minimising wasted time and resources. He is also the consistent eyes and ears of the unit, advocating for patient and staff safety – stepping quietly in to adjust a strap, suggest a modification in approach or posture, or remove an obstacle for those he works alongside. Never judging, always supporting the team to work safely to achieve the best possible outcomes for patients.
Person centred care
Anthony is respected by patients and colleagues alike for his calm demeanour and gentle humour. He is particularly popular with students and newly qualified staff who really value his support as they work to safely develop their skills in therapeutic handling and rehabilitation. He is also a favourite with patients who recognise his commitment to encouraging their recovery, not only through physiotherapeutic input, but through getting to know them as people and understanding what makes them tick. If you can do this, then you are well on the way to holistic, person centred care, particularly in this setting when people often have significant cognitive and/or communication impairments."
"Collaborative working
As a Band 3 Physio support worker, Anthony is a 'quiet leader'. Working in the extremely inter-disciplinary setting of neurorehabilitation, Anthony supports, not only the Physiotherapy team, but the nurses, OTs, Dietitians and Speech and Language Therapists in rehabilitating adults with extremely complex needs after a neurological injury. If the nurses are short staffed first thing in the morning, he will try to free up time to help support patients to get up and dressed for therapy. If the bins are full, he will change them. He goes quietly about his business, helping pave the way for the 24 hour rehabiliation approach at SRC.
Anthony's contribution to the smooth running of the inter-disciplinary team and excellent patient care is particularly evident when he takes annual leave. This is when his quiet leadership is noticed through its absence. They say great leaders step back while their colleagues say 'look what we've achieved' and I would say this is true of Anthony."