6 training places available: 4 places on the hospital programme and 2 on the hospital-GP split programme.
Hampshire Hospitals NHS Foundation Trust (HHFT) comprises three hospitals: the Royal Hampshire County Hospital in Winchester, the Basingstoke and North Hampshire Hospital in Basingstoke and the Andover War Memorial Hospital in Andover.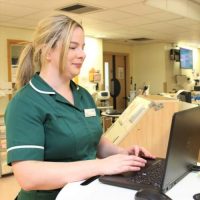 The training programme
There are 6 foundation training posts for 2021-22 across Winchester and Basingstoke acute hospitals. HHFT's foundation training programme is fully rotational with clear development pathways to build clinical expertise. Trainees will be supported by a band 6 buddy, as well as an individual designated supervisor and an educational programme director. There is robust training provision supported by the HEE regional training programme and local study afternoons within the Hampshire and Isle of Wight cluster. HHFT also support external placements with the local CCG, Mental Health and community partners.
Why is HHFT a great place to train?

During the first three months of the programme, trainees will become competent in dispensary services, stores and distribution and medicines management. After completing these rotations, trainees will start the clinical portion of their timetable, including:

– Acute Medicine

– Surgical including ICU, Peritoneal Malignancy and Nutrition

– Long term health conditions including frailty and stoke

– Medicines information

– Paediatrics

– Medicines Safety

– Aseptic services

– Antimicrobials

– Emergency medicine

– Clinical trials

We encourage our trainees to spend time with the multi-disciplinary teams including specialist nurses, physiotherapists, the speech and language therapy team and the dementia team to gain valuable learning experiences to support their future careers. HHFT also support cross-sector experiences with rotations in community pharmacy, mental health, and the CCG.
All trainee pharmacists will receive a tailored induction plan designed to ensure they are fully orientated to the department at the start of your training programme. See how a typical trainee year looks in the sample timetable. HHFT support trainees by providing OSCE preparation skills, exam sessions held by newly qualified pharmacists and training sessions run by pharmacists.
The trainees on the hospital-GP integrated programme will spend 6 months rotating between the Winchester and Basingstoke hospital sites, and 6 months working at a local GP surgery in Winchester. During the placement in general practice, trainees will work within a multidisciplinary team learning how pharmacy can play an integral role in patient care.
Quotes from previous trainees

"I applied through Oriel and was very glad when I received a place at Royal Hampshire County Hospital for my pre-registration year. All members of staff were welcoming and helpful. I found that the atmosphere was very friendly, and made working at HHFT very enjoyable. I completed a variety of rotations including surgery, cardiology, aseptics, medicines information and mental health. Surgery was a particular highlight, as I got to see the pseudomyxoma peritonei operation and the chemotherapy that is used during the surgery.  I feel the pre-reg year at HHFT has really prepared me to be a pharmacist and I am very happy that I have secured a job working at the trust after I qualify." Charlotte Tanner, pre-registration pharmacist 2019-20

"I have really enjoyed my pre reg year at Hampshire Hospitals Foundation Trust, I have gained experience in many different clinical areas through the rotations. I have particularly enjoyed the mental health rotation and the surgery rotation where I had the opportunity to observe a pseudomyxoma surgery. The pharmacy team and my line manager have been very supportive and the study days have been very beneficial in aiding my learning throughout the year. My plans for the future include continuing as a hospital pharmacist, completing the diploma and gaining more experience." Ruqaiyah Suleman, pre-registration pharmacist 2019-20
More about HHFT

HHFT employs 140 members of pharmacy staff, including managers, pharmacists, pharmacy technicians, pharmacy assistants, and administrative support, across all three sites.

The pharmacy department support the future development of the team and actively encourage further education and training. The department has a dedicated education and training team, comprising a lead pharmacist and two senior pharmacy technicians. The team support foundation training as well as post graduate diplomas and degrees, independent prescribing, national vocational qualifications, pharmacy work experience, university student placements, and leadership and management courses.

It is an inclusive department, and all staff are encouraged to be part of continuing improvement plans, through the pharmacy action group, for example. HHFT promote an open and honest no blame culture within the department.  

The Royal Hampshire County Hospital, Winchester

The current pharmacy department is situated at the front of the hospital. Plans have been approved for a brand new modern pharmacy department to be purpose built in the main hospital building. This new department will house a dispensing robot, stores and distribution area, a light and spacious dispensary with offices, the Medicines Information service, meeting rooms and training areas.  

Winchester hospital is a designated Primary Stroke Service hospital with emergency diagnostic and therapeutic services available 24 hours a day.  A new hospice is currently being built, which and will improve end of life care within the Trust. 

The hospital is a 20 minute walk from the train station and approximately a mile from the city center. A regular park and ride bus service operates linking the hospital to car parks and the town centre. 

Basingstoke and North Hampshire Hospital

The pharmacy department is in the heart of the building with easy access to the wards and other services; it overlooks the newly designed 'secret garden', a place designed for staff wellness. The department has a new dispensing robot 'Bevan' which was installed in 2018, and also houses the aspectic services unit.

Basingstoke hospital provides specialist services for rare or complex illnesses for patients across the UK, including liver cancer, colorectal cancer and Pseudomyxoma peritonei (a rare lower abdominal cancer). In 1999 it became the first hospital in Europe to perform surgery using equipment operated by voice commands. The regional haemophilia service is also based here. 

The hospital is a 30 minute walk from the train station with regular buses stopping at the hospital. 

Andover War Memorial Hospital  

The community hospital provides inpatient rehabilitation, day hospital services, a minor injury unit and an outpatient unit. The Countess of Brecknock Hospice is also located on the same site. Although there is no pharmacy department in the hospital, there is a team of pharmacists and pharmacy technicians who regularly attend the hospital to provide a clinical service. Medication and stock is provided by the inpatient pharmacy at the Royal Hampshire County Hospital. 
All training sites, including the GP practices are accessible by public transport. Accommodation on hospital sites is available. The shift pattern is 8.45am to 5pm Monday to Friday, and 1 in 8 Saturdays 9.15am to 1pm.
More about the area

Winchester is a city in Hampshire next to the South Downs National Park. Its major landmark is Winchester Cathedral, one of the largest in Europe. Winchester has a quaint city centre, with lots of of shops, restaurants, pubs and live music as well as interesting architecture and the stunning surrounding countryside.

Basingstoke is the largest town in Hampshire. Festival Place shopping centre contains lots of shops, cafes and restaurants. The city also hosts several arts and music venues and other cultural attractions, and is within easy reach of both the South Downs and North Wessex Downs – both areas of outstanding natural beauty.
Contact

More information about the trust can be found on the HHFT website.

If you would like to know more about pre-registration training at Hampshire Hospitals NHS Foundation Trust, please contact Kate Willoughby by email or call 01962 824859.