5 training places available: 3 places on the hospital programme and 2 on the hospital-GP integrated programme.
The Buckinghamshire Healthcare NHS Trust (BHT) pharmacy department has approximately 130 members of staff who provide pharmacy services across our three main sites (Stoke Mandeville, Wycombe and Amersham) and four community sites.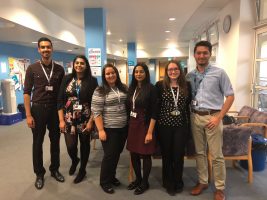 The training programme
BHT provides a varied and comprehensive programme to develop competent, confident pharmacists. Core rotations are provided in dispensary, stores, medicine, surgery, cardiology and stroke. Specialist rotations are also provided in the internationally-recognised National Spinal Injury Centre, ITU, mental health and women's and children's.
BHT's onsite aspetics unit enables trainee pharmacist trainees to spend two weeks with the oncology team. Trainees will develop medicines information skills at the medicines resource centre which serves the integrated health care system. The programme also includes a two-week community placement.  
Trainees will have the opportunity to shadow other healthcare professionals including stoma nurses, pain team nurses, diabetic nurses, IBD nurses, and attend surgery. They will be able to attend infectious disease ward rounds with the pharmacy team and HIV clinics with prescribing pharmacists. See how a typical trainee year looks in the sample timetable and the trainee pharmacist passport.
Placement in General Practice
Two of the training programmes at BHT include a 13 week placement at a GP practice; The Allan Practice in Chalfont St. Peter (26 weeks) or Whitehill Surgery in Aylesbury (13 weeks). These programmes will give trainees a valuable insight into primary care and the integrated healthcare system. Trainees will be supervised by an experienced clinical pharmacist in the GP practice.
Why is BHT a great place to train?

You will be well supported by your own designated supervisor and the educational programme director who arranges and delivers the programme. The varied aspects of our programme will enable you to develop the skills, values and behaviours to begin your career. We have a high retention rate of trainee pharmacists as band 6 pharmacists. 

As a band 6 pharmacist, you will be supported to complete a post graduate diploma and develop your career as a specialist pharmacist. BHT offers a well-supported and enjoyable foundation for your career!

Quotes from previous trainees
"I've gained extremely valuable experience in so many different clinical areas throughout the year with a lot of opportunities to see the many roles you can take on as a pharmacist."  Rachel, pre-reg pharmacist 2019-20 

​"Whilst completing my pre-registration year at BHT, I felt well supported and encouraged to fulfil my potential." Tasnim, pre-reg pharmacist 2019-20 

"There are plenty of opportunities including observing surgical procedures and sitting in on important multidisciplinary team meetings. As the saying goes, ask and you shall receive!" Kendra, pre-reg pharmacist 2019-20 

"Pre-reg was a tough year but I gained lots of experience which helped to prepare me for the exam and for practice. I learnt a lot and made great friends, overall I enjoyed my time at Bucks and ended up staying two years longer than I initially planned!" Ailsa, pre-reg pharmacist 2017-18 

About the Trust
In 2019 the Care Quality Commission inspection rated BHT Good with Outstanding for Caring.  The Trust has 800 beds and utilises a £46m drugs budget.  Implementation of electronic prescribing is underway.  There is an active clinical trials team and pharmacy run DOAC clinics.  The department is actively engaged using quality service improvement and redesign to develop our services in line with the Trust values and strategy. 
Trainees' own or public transport can be used to travel between sites. On-site accommodation is also available. Shift patterns are 9.00am to 5.30pm Monday to Friday, and one late per week with time back in lieu given. Trainees are also required to work both Saturday and Sunday 1 weekend in 8 with two days off the following week, and one bank holiday during year.
More about the area

Buckinghamshire is an area of outstanding natural beauty and ranks as one of the top rural areas to live in the UK.  Stretching from the outskirts of London to the Midlands, the county offers a unique mix of bustling towns alongside the rolling Chiltern Hills and the River Thames. 

Country walks run between picturesque villages whilst the superb travel links give quick and easy access to the cities of London, Oxford, Milton Keynes and Birmingham.

The region is well connected: access to London, the Midlands and airports is very easy via the M40, M4 or M25 motorways. You can be in central London in under an hour. Bicester Shopping Village and the historic city of Oxford are also within easy reach.
Contact

More information about Buckinghamshire Healthcare NHS Trust is available on the Trust and BHT careers websites. BHT is also on LinkedIn and Twitter.

If you would like to know more about foundation training at BHT, email Alexa Conrad, or call 01296 316197.