AHP faculties are groups of education and service providers that formally work together across an Integrated Care Partnership (ICS) or Sustainability and Transformation Partnership (STP), to support and deliver a collective approach to enable AHP workforce recovery and growth.
There are six AHP faculties across the South East that support each of the ICS/STP in the region and report into their respective ICS/STP AHP Council.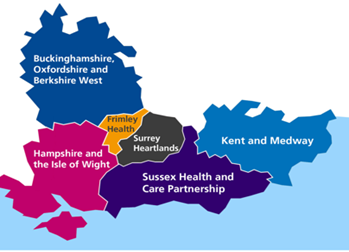 Key priorities for the South East AHP Faculties include: coordination and expansion of quality learning environments, apprenticeships and widening participation, developing the AHP support workforce, work experience, promoting AHP careers, advancing practice, workforce development & return to practice (RTP), and bridging the gap between education & employment.
Use the buttons below to find out more about each AHP Faculty: