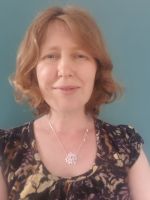 Sadhbh (pronounced 'Sive') O'Dwyer has been a Wessex PSW Specialist Support Group (SSG) Dyslexia expert since 2019.
Sadhbh is a Specific Learning Difficulties (SpLD) specialist based in Hampshire. She is originally from Ireland (her name means Sabina in Irish).
Sadhbh initially worked as an English language teacher in universities and secondary schools in Ireland, France, Japan and the UK. She is very used to working with people who speak English as an additional language, and worked with a charity for refugee academics, many of whom were doctors.
Sadhbh subsequently moved into technical writing and editing, and is very interested in integrating technology into people's lives. Her experience of working with university learners with undiagnosed SpLDs and mental health issues, as well as having family members with SpLDs prompted her to retrain as an SpLD specialist.
Sadhbh's MSc research was on applying mindfulness approaches to SpLD support. She primarily works with adults (usually in the University of Southampton) and is currently undertaking a PhD on the transformative learning impact of theories of social justice and critical pedagogy.
Sadhbh strongly believes that an assessment for dyslexia should be an assessment for learning difference, not for learning deficit. She is guided in her work by Amartya Sen's Capability Approach, where she assesses for people's capabilities first and foremost. Through examining people's capabilities, one can then devise approaches to deal with difficulties that people may experience.
Sadhbh aims to make the assessment experience as informative and as stress-free as possible. Sadhbh is a great believer in having a cup of tea and a chat throughout the process – the qualitative information that people share of their lived experiences is just as important as psychometric data.
Sadhbh's qualifications are as follows:
BA English and French
MA French
MSc Education (Dyslexia)
Diploma ESOL
Certificate Technical Communication
Certificate Technical Communication
Associate Member British Dyslexia Association (AMBDA)
Association Dyslexia Specialists in Higher Education Quality Assured Tutor (ADSHEQA136)
PATOSS Assessment Practitioner Certificate (500002336-IF7242)
In her spare time, Sadhbh drinks a lot of tea and coffee, while reading research papers, and is partial to a biscuit.