What are Training Hubs?
Think of Training Hubs as your 'go to' place for any information about Primary Care workforce, education and development.
For more information, click the links below:
---
Primary Care School
We are delighted to share our TVW Primary Care School (PCS) team's achievements from 2022. Our team are really proud of these successes and want to thank all of our system partners for working with us to develop the workforce in Primary Care across Thames Valley and Wessex to improve outcomes for our patients.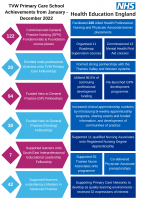 ---
For more information on our TVW PCS, please see below tabs:
---
Integrated Care Systems
Across Thames Valley and Wessex there are three Integrated Care Systems (ICSs). The links below take you to the relevant ICS homepages: