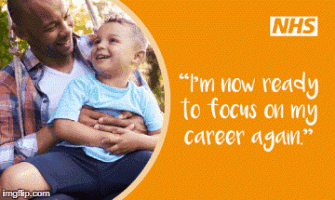 The Return to Practice (RtP) programme enables former registrants that have left their professions to re-enter and gain their registration. They will already have the skills and experience to make a big difference to patients, clients, carers and their families and we want to help them on their RtP journey.
To find out more about RtP, please visit HEE's national RtP programme webpage or download the Return to Practice booklet.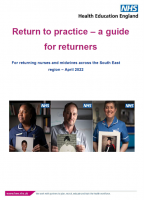 Ways to Return:
Return to Nursing and Midwifery
Apply for re-admission to the NMC register

The returner must meet the following criteria:

Undertaken registered practice (this can include any practice whilst on the temporary register) for either:

•         450 hours in the 3 years before you begin the readmission application

•         750 hours in the 5 years before you begin the readmission application

The returner must have gained 35 hours of Continuing Professional Development (CPD) in the 3 years before application for readmission.

Question:

I've completed my practice hours: how do I gain my 35 CPD hours?

35 hours of CPD may sound like a lot, especially if out of practice for some time. However, if the returner has joined the temporary register and have been in employment since joining, they may have completed some already. If the returner has been off the permanent register for less than 6 months, the 35 hours of CPD must be made up of:

•         At least 20 hours participatory learning

•         At least 15 hours self-directed study

If off the register for more than 6 months, there are no stipulations on the types of learning activities which constitute these hours. Self-directed study includes learning activities that do not usually involve interacting with other people. Examples include undertaking online learning sessions on the e-LfH Hub (e-lfh.org.uk), accessing and studying resources which the health and care workforce have shared on the Learning Hub – Home or resources to support ongoing learning and development on the Skills for Care website.

Participatory learning includes undertaking activities involving interaction with one or more other professionals. This can be in a physical environment or a virtual one. This may count from an induction, face to face mandatory training or study days in the last 3 years. These would count as participatory hours. Participating in live webinars, online and virtual events also count if they are attended in real time (rather than a recorded version with no opportunity to interact with others).

We have curated several resources (self-directed and participatory) on the e-LfH Hub (e-lfh.org.uk) which when undertaken will contribute to CPD hours.

Temporary registrants can return directly from the temporary register to the permanent register and can absolutely include hours to then reapply to return to the register.

They will need:

·       Registered practice hours of 450 over previous three years or 750 hours over previous five

·       35 hours of continuing professional development (CPD) in the last three years

·       To provide three-character references

Please visit the NMC website for further information and an application form
Undertake a Test of Competence

If returners do not have the practice hours to apply for re-admission to the NMC register, returners may want to consider undertaking a Test of Competence (ToC). This is a formal route onto the NMC register by undertaking a computer-based test (CBT) and a practical examination, known as an OSCE.

More information on taking a test of competence to return to practice – The Nursing and Midwifery Council can be found on the NMC website.

Within your region there are also opportunities to have support for the test of competence at a local NHS Trust or organisation. Returners can also self-fund this test of competence and then reclaim the funding once successfully joined the register and gained employment.  
Undertake a Return to Practice programme

A return to practice programme is a formal study programme, usually at a university, which includes theoretical learning and practice placements at a local employer. These programmes at university can be online delivery or face to face teaching. This is a good option for returners who do not have any practice hours within the last 3 years. The length of the programme is dependent on how many practice hours the returner needs to achieve. These programmes are funded by Health Education England.  For more information on return to practice programmes in your area, please visit: https://www.healthcareers.nhs.uk/career-planning/course-finder
Funding and Resources

Whilst undertaking return to practice programme returners if not employed by the supporting trust or organisation can receive a stipend or grant approximately £1000 to support travel costs, books and childcare costs. This can be via the employer or university and funded by Health Education England.

Here are some useful resources:

National HEE Return to Practice
If you have any questions about any of these routes to Return to Practice, please do get in touch – returntopractice.se@hee.nhs.uk
Case Studies
Sarah

What attracted you to midwifery when you first trained?

When I was child if anyone asked me what I wanted to do when I grow up, I would always answer "a doctor". As I got older and more aware of female health issues and childbirth, I was sure I wanted to be a midwife and help women and their families during this special time.

Why did you leave?

After having my first child I returned to work for a short period but childcare was difficult and it became clear that my first born had some difficulties. 

Why did you decide to return and how long had you been off the register?

I ended up off the register for nine years, in that time I completed my family and it transpired that all of the children (3) have special educational needs and disabilities. Due to this I had no intention of returning and believing that a return would be possible with my current family circumstances. The children settled into new schools and had more support and suddenly I had a little more free time so decided to make some enquiries into enrolling on a return to midwifery practice course.

 What were your biggest concerns or challenges? What support did you receive?

The biggest concern about starting the course was how I would manage the hours/studying and long days, knowing that this change would be particularly stressful for the children. Working 12-hour shifts meant that I wouldn't see them at all that day. However, the course was very flexible, and I was advised as long as it was completed within a year that would be fine. I decided to work 22 hours a week, which was manageable for me. The trust was also flexible with off duty, as I preferred not to work two long days together due to the children and this was normally always accommodated.

The trusts practice facilitator worked with me to ensure that I got the experience in the areas that I needed it. I found the maternity unit a friendly place to work which helped me to regain my confidence after so long away from midwifery.

 What advice would you give someone thinking of returning? Go for it! It wasn't as daunting as I had expected it to be and was very manageable. Naturally, it's always a big step to go back to midwifery which is a fast paced and at times challenging career, but the return to practice course I feel has prepared me for life as a registered midwife once more.