What is SIM-TEL?
SIM-TEL is an established aspect of the academic and clinical learning environment. The interest in Simulation-Based Education (SBE) to support education and training has grown significantly since the onset of the COVID-19.
Priorities of the SIM-TEL Programme

Key priorities include:

– Improving patient safety

– Delivering a modern workforce

– Enhancing the quality and capacity of the learning environment

– Involving patients and the public

– Developing the simulation and immersive technology community

– Research and innovation

– Lessons from outside of health and care

– Reflections on the impact of COVID-19
The National Strategic Vision for simulation and immersive technologies explores how high-quality simulation-based programmes can be applied to help address system-wide challenges being faced within the health and care sector.
The HEE National Framework for SBE for more information can be found here.
Meet the SIM-TEL Team

Rosie Courtney, SIM-TEL Programme Lead, HEE South East

Beth Gates, SIM-TEL Project Manager, HEE South East

Iain O'Neill, TEL Relationship Manager, HEE South East
Simulation and COVID-19:
Key lessons from the initial response of the UK simulation community to COVID-19
Key lessons are highlighted in relation to strategic and operational mobilisation of expertise and resource to meet local and regional needs. This response was acknowledged as rapid and agile, addressing immediate workforce reskilling requirements and 'stress testing' the design of new environments and ways of working. Recommendations for future practice are made, recognising the benefit of enhancing future co-ordination and collaboration across organisational and geographical boundaries that exist in health and care.
HEE TEL has developed some important guidance regarding the implications of COVID-19 for SBE.
Current projects:
Multi-professional faculty
Multi-professional fellows being appointed to set up a wider fellowship network
Clinical Placement Expansion
Speciality Training Gap – HoloLens pilot
TEL Readiness Survey
Pre-term birth project
'No Harm in Learning' patient safety project
Simulation kit in use: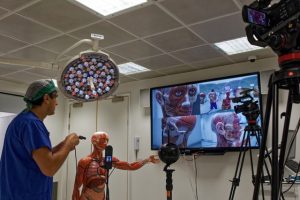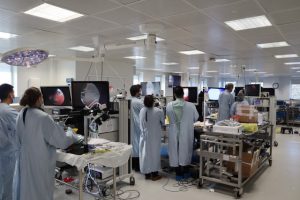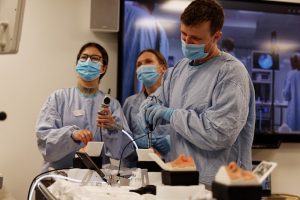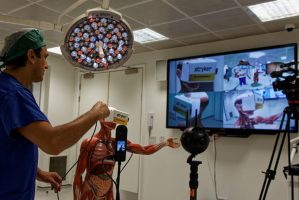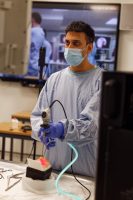 Evaluation and evidence of the benefit of simulation
To support the effective translation of the guiding principles described in the framework into current and future applications of simulation in health and care, HEE TEL has undertaken a review of immersive technology in the healthcare environment. An evaluation framework and toolkit will follow shortly. This can be applied to help develop and strengthen the evidence base for this overarching programme of work.
In addition, opportunities for wider engagement with industry are being investigated, with future plans to develop a cohesive immersive technology strategy and policy that will enable delivery of learning that is fully embedded in current thinking.